About Seasons Kosher
Seasons Kosher was born out of a passion to create a kosher shopping experience that goes beyond convenience and selection — a place where people actually want to shop and where people want to work; a place that embraces every customer, employee and vendor as part of the family. Since 2011, it's grown from one store in Queens to become the nation's largest kosher supermarket chain with locations in Clifton and Lawrence, New Jersey, and Lawrence, Scarsdale and Queens, New York.
Client PR Goals
Seasons Kosher came under new ownership following bankruptcy in late 2018. The bankruptcy resulted in the closing of three Seasons Kosher stores, including one in Scarsdale, New York. Under new ownership, Seasons Kosher rebranded to a more family centered message and focused on providing the highest quality shopping experience for their customers. As part of their initiative, they renovated all of the Seasons Kosher stores and reopened a Scarsdale location.
To celebrate the reopening of Seasons' Scarsdale location and to welcome the family back home to the store, HeraldPR planned and executed a Grand Reopening event. The event was planned to showcase the newly upgraded space, as well as the give the community a taste of the high quality experience to be had at Seasons. With food tastings from each department, giveaways, a photo booth and balloon animals for the kids, the event was a joyous success for Seasons, the Scarsdale community and HeraldPR.
HeraldPR also planned a Passover Food Expo at Seasons' Clifton location to showcase the store as the largest Kosher for Passover food section in the area. The event featured sampling of Kosher for Passover food and wine, giveaways and activities for kids.
Throughout the month of February 2019, HeraldPR worked with the Seasons team to plan a date and time for the event, create a budget, book vendors, and invite local media and elected officials. The event took place on the first Sunday in March and hosted approximately 500 guests and community members.
Top Placements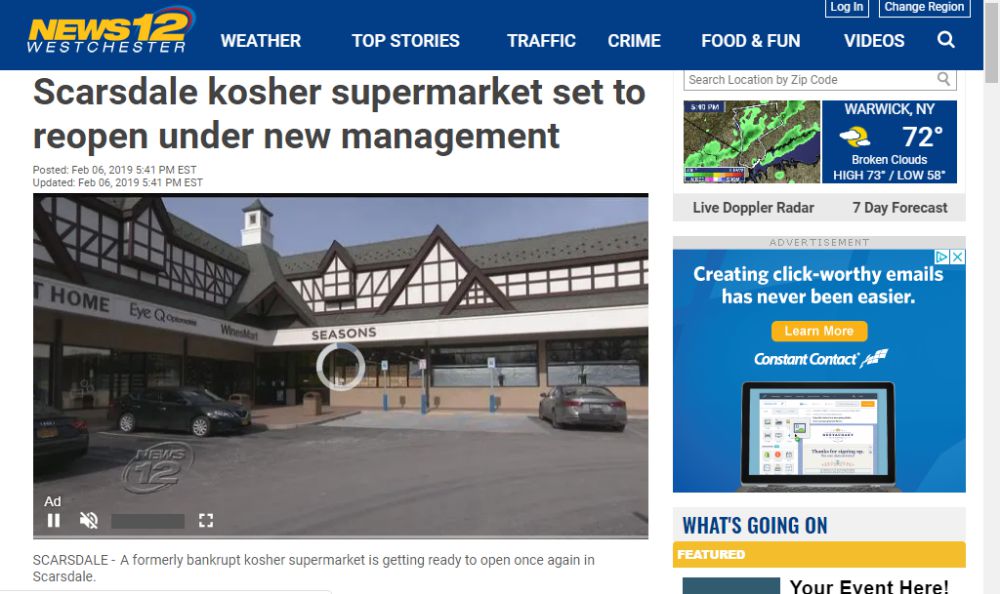 News 12 Westchester
Date: February 2019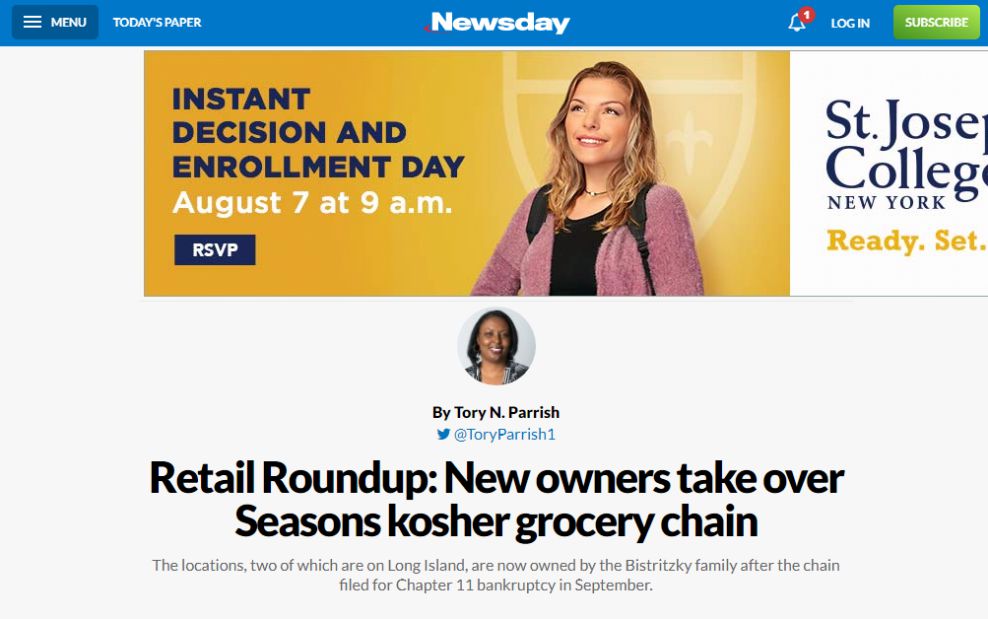 Newsday
Date: March 2019
Unique Visitors per Month: 1,013,000